Archery at Checkendon Equestrian Centre
Dimitri Christou is a British Horseback Archery Association (BHAA) Club Coach. He has represented both Great Britain and Greece internationally, and is now based at Checkendon Equestrian Centre.
Dimitri offers mounted horseback archery and unmounted ground archery lessons for all levels and age groups.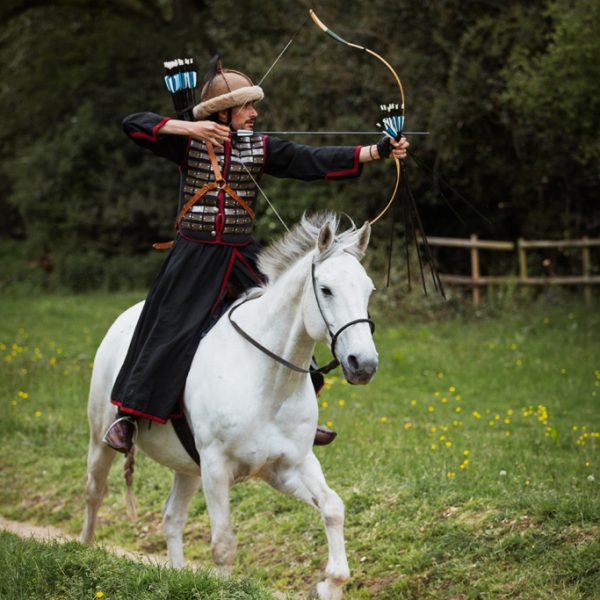 Requirements for horseback archery are any one of the following:
Riders hold a BHAA certificate
Riders must be able to ride in walk and trot 
Riders must be able to hit the archery target 10 out of 20 shots
If you do not meet any of these requirements, we offer lessons with Dimitri who will help you to acquire them.
Ground archery lessons at Checkendon Equestrian Centre are available for both children and adults.  We offer group and private lessons.
You do not need to be able to ride to enjoy ground archery.
HORSEBACK ARCHERY
1 Hour Private Lesson £70
1 Hour Group Lesson for 2 people  £55/person
1 Hour Group Lesson for 3 or more people £50/person
HORSEBACK ARCHERY

1.5 Hour Private Lesson £100
1.5 Hour Group Lesson for 2 people £80/person
1.5 Hour Group Lesson for 3 or more people £70/person
GROUND ARCHERY
1 Hour Private Lesson £40
1 Hour Exclusive Group for 2 people £20/person
1 Hour Group Lesson for 3 or more people £15/person
To book for the following times please email linda@checkendonequestrian.co.uk
TUESDAY and THURSDAY 9am to 4pm
WEDNESDAY and FRDAY 9am to 1pm
SATURDAY 9am to 4pm
SUNDAY 9am to 3pm
To book outside of the above times please email archery@checkeneondequestrian.co.uk