The Sport of Kings: is it Polo or flat (horse) racing at the Derby or Longchamp or is it hunting to hounds,
asks Toby Greenbury
Stone reliefs at the British Museum in London include this one of Ashurbanipal, hunting with a bow and arrow at full gallop. Not just any Prince; not just any King. Ashurbanipal, the King of the World and Assyria, King of Babylon, King of Sumer and Akkad, King of Kush, King of Egypt, King of the Four Corners of the World and King of the Universe. Ashurbanipal was King of the Neo-Assyrian Empire from 668 BC to 627BC…….. and this is how he relaxed.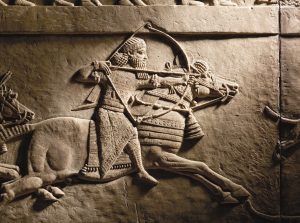 Horseback Archery wasn't just a sport. It was a key martial art, arguably the ultimate martial art, and early Samurai were skilled in mounted combat and archery.
Records show mounted archers engaged in sport, martial arts and battle across the globe, including, in Byzantium, Egypt and Persia, Korea, North America, India, the Western Steppes. Closer to home, a contemporary account described William the Conqueror drawing his bow at full gallop and being so strong that no-one else could draw his bow. 
Dimitri Christou, pictured above, is a British Horse Archery Association Club Coach, and has represented both Great Britain and Greece internationally. He is now based with us at Checkendon Equestrian Centre. While sadly neither king nor prince, Dimitri does offer Mounted and Unmounted Archery lessons for all levels and ages. If this looks fun, please email Checkendon Equestrian Centre linda@checkendonequestrian.co.uk or call us on 01491 680 225 to book in.
Author: Toby Greenbury, very much in his happy place, aboard his AS 940 – a cross between a go-cart and a Lamborghini (so we are told).